A tree fell in my yard after Hurricane Dorian, do I have coverage?  Do you live in Charleston, Edisto, Mount Pleasant, Pawley's and are facing this exact situation?
We are getting many questions from our coastal homeowners from Florida, Georgia, South Carolina, and North Carolina about coverage on their homeowners policy for trees that have fallen in their yard but not necessarily on their house or any other structure.  This can be a very complicated topic and I will do my best to break it down for you. Please note that the language I am sighting is from a standard ISO HO3 policy form (2011 edition). I also want to point out that this is a short and quick understanding and not intended to be a white paper on coverage analysis.
The short of it is that the basic ISO HO3 policy will pay up to $1,000 ($500 per tree) to remove it from the property.  It is important to know that your wind, named storm, or hurricane deductible will apply to this loss. For example, if you are insuring your home for $500,000 and have a 2% wind deductible then your deductible is $10,000.  In many cases, if a tree simply fell in your yard, you may not hit your deductible.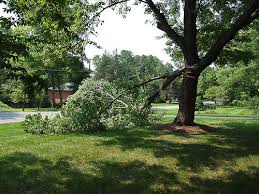 What if a tree falls on my house, detached garage, or my fence?
If this is the case, the policy reads that they will pay "whatever is reasonable" to take the tree off the damaged property…but still only pay $1,000 to remove the tree from your property.  Confusing right? Your same deductible mentioned above would still apply. In this situation, you may surpass your deductible and actually receive money from the insurance company. This same situation would also apply if the tree is blocking your driveway and prevent you from using your driveway.
Hopefully, this quick article helps answer your question or provides you with a little more insight into how your policy will most likely work.  Again, your policy may pay more than $1,000 but this is the basic coverage.
Bonus:  Another question we are getting relates to refrigerated goods.  Is there coverage when the power goes out and spoils your food? The answer is MAYBE.  Under the same standard ISO HO3 policy form (2011 edition) there is no coverage…however, many companies "endorse" the policy to provide broader (better) coverage for items like this.  For many homeowners, they will have up to $500 of coverage with a special deductible of just $100. Not every company offers this endorsement so ask your agent or check your policy.
We hope that you and your family are safe after Hurricane Dorian. Please let our team know if there is anything that we can help with!