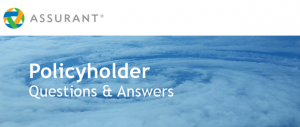 As your flood insurance partner, we want to share some of the most common questions we are receiving from policyholders filing a flood claim and provide you with answers so that you can assist them during this difficult time.
Is the cost of additional living expenses covered by an NFIP Flood policy?
No, there is no coverage for additional living expenses (ALE). All of the following are excluded:
Loss of revenue or profits
Loss of access to the insured property or described location
Loss of use of the insured property or described location
Loss from interruption of business or production
Any additional living expenses incurred while the insured building is being repaired or is unable to be occupied for any reason
What is the difference Between RCV and ACV?
Replacement Cost Value (RCV) represents the cost to replace that part of a building that is damaged (without depreciation). To be eligible, three conditions must be met:
The building must be a single-family dwelling, and
Be your principal residence, meaning you live there at least 80 percent of the year, and
Your building coverage is at least 80 percent of the full replacement cost of the building or is the maximum available for the property under the NFIP.
Actual Cash Value (ACV) represents the Replacement Cost Value at the time of loss less the value of its physical depreciation. Some building items, such as carpeting ,are always adjusted on an ACV basis. For example, wall-to-wall carpeting could lose between 10 and 14 percent of its value each year, depending on the quality of the carpeting. This depreciation would be factored into the adjustment. Personal property is always valued at ACV.
What is Increased Cost of Compliance (ICC) coverage?
Most NFIP policies include ICC coverage, which applies when flood damages are severe. ICC coverage provides up to $30,000 of the cost to elevate, demolish or relocate your home. If your community declares your home "substantially damaged" or "repetitively damaged" by a flood, it will require you to bring your home up to current community standards. The total amount of your building claim and ICC claim cannot exceed the maximum limit for Building Property coverage ($250,000 for a single-family home). Having an ICC claim does not affect a Personal Property claim (up to $100,000), which is paid separately.
I have a lot of initial expenses, can I get an advance payment on my claim?
The NFIP is making it easier for policyholders to receive an advance payment for their flood claim to help them begin the process of recovery as quickly as possible. After filing a flood insurance claim, the policyholder can discuss an advance payment with the insurer.
When a policyholder contacts the insurance company and has his/her identity verified, the policyholder can receive an advance payment for up to $5,000 on a flood claim without an adjuster visit or additional documentation. When the advance payment is issued, the policyholder receives a letter that explains that by accepting this payment, the policyholder is certifying the damage.
Policyholders who provide the following: photos or videos which depict flood-damaged property; receipts for related out-of-pocket expenses; or a contractor's itemized estimate may receive up to $20,000 in an advance payment.
Advance payments are deducted from a policyholder's final claim settlement amount and may only be used according to the terms of the policy. For example, when a policy is for building coverage, the advance payment must be used to repair or rebuild the structure. In another example, when the policy is for personal property, the advance payment must be used to repair or replace the contents that were within the structure at the time of the flood. Advance payments may not be used for temporary housing and living expenses.
If a policyholder's property is mortgaged and they have building/structure coverage, both the lender and the policyholder will be named on the check and both signatures will be required.
What is disaster fraud and how can I prevent it from happening?
After a natural disaster occurs, there tends to be an increase in fraudulent contractors who attempt to pray on vulnerable survivors by offering false information about inspection issues, clean-up requirements, housing assistance, immigration issues, pet shelters and more.
FEMA has excellent resources to help protect yourself and those you care about.
Click here for more information.
For your reference, the Dwelling Form policy jacket can be accessed here.