Understanding Replacement Cost Versus Market Value in South Carolina, North Carolina, and Georgia
Do you ever wonder what it would cost to rebuild your home?  Do you agree that your rebuild cost would change year to year?  So how do you do this for insurance purposes to make sure you are properly covered at all times?  Find out how to properly insure your home below.
One of the most common conversations we (Mappus Insurance Agency advisers/guides) have with our clients and future clients is establishing a replacement cost value (RCV) for their primary or secondary home in Mount Pleasant, Charleston, and other coastal South Carolina, North Carolina, and Georgia communities.
Often times the client wants to use the "purchase price" of the home.  It seems logical…if you buy something for a price then it must only cost that price to rebuild (less land value), right?  That is true for market values but replacement costs can be quite different.  See the example below.
In today's real estate markets across the country, we have seen home prices go up and down like a roller coaster, so using a "market price" or "purchase price" can cause major headaches come claims time…luckily in Charleston and Mount Pleasant and other areas of coastal South Carolina, North Carolina and Georgia we have only seen increased market values the past few years (fingers crossed).  Often times, when using the market price of a home for the replacement cost, you will find yourself under-insuring your home.
For example, in Mount Pleasant, South Carolina there is a neighborhood called Park West.  There are some beautiful homes in Park West (and thankfully we insure many of them).  A 3,000 sq.ft. home in Park West can cost anywhere from $500,000 to $700,000 (in general terms).  Let's take a house that is currently on the market as of 12.6.2019 at the address of 1693 Sewee Fort Rd Mount Pleasant, SC 29466.  This is a very nice house that is roughly 3,900 sq. ft.  If you used "market value" then one would probably insure the house for roughly $600,000 ($720,000 less an estimated land value of $120,000).  Sounds good, right?  WRONG.  If one of our advisers guided you through our process, we would come back with a replacement cost of roughly $780,000 (3,900 sq. ft. times $200 sq. ft.).  That is a difference of $180,000!!!  If you had a full or partial loss, you would sustain some major out-of-pocket costs for being underinsured.  The difference in insuring this home properly based on our scenario is around $300-400 a year.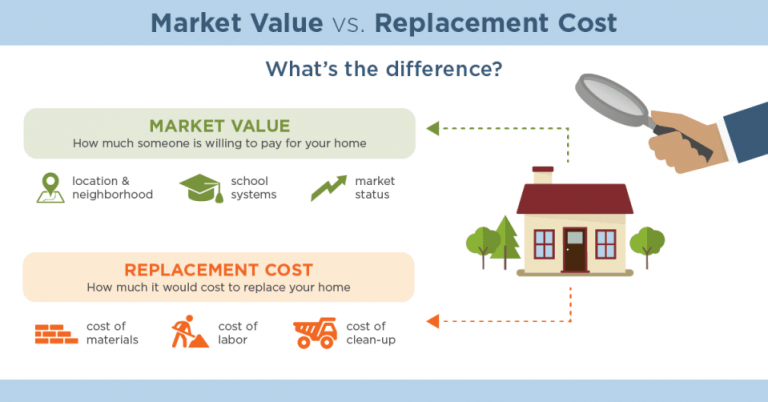 SIDE NOTE:  If this home were in the 29464 zip code, you may be seeing a $225 sq. ft. rebuild cost so there is no simple answer to this question.
To sum things up for homeowners and homebuyers in Mount Pleasant, Charleston or other coastal communities in South Carolina, North Carolina, and Georgia, we recommend having a local insurance adviser (that truly understands the local market) guide you through this process to make sure you are not under or over-insuring your home.