Car insurance in South Carolina is going crazy right now, let's face it.  Many insurance companies are taking  double digit increases on an annual basis.  When you add your teen drivers into the mix, this increase can be a major cost to many families.
Below are some solutions to help you reduce your costs while not reducing your coverage, when dealing with car insurance in South Carolina.  ***Please note that if Mappus Insurance Agency works on your auto insurance, we also must review and write your homeowners insurance…but the good thing there is that we represent many high quality home insurance companies in which we can probably put you in a better position there as well!
This is a re-post from one of our top insurance company partners, SAFECO, a Liberty Mutual Company.
Adding a teen driver to an auto policy can be a disruptive event for a customer and agent. Safeco offers these discounts that incentivize safety with driver education and provide opportunities to save.
We help you manage the cost of a teen driver
Good student – Customers with youthful drivers that can provide certification of certain scholastic achievements qualify for a good student discount on their auto policy for up to 24 months.
Distant student – Customers with a youthful driver in their household qualify for a distant driver discount on their auto policy if the driver is a resident student at an educational institution over 100 miles away from home and without a car.
Driver training – Customers with drivers under age 21 who complete a driver education course may qualify for a driver training discount. (Not available in NY). This discount does not apply if:
Your customer is taking a course in response to a court order for a penalty or resulting from a traffic violation;
During the past 36 months, your customer has been involved in an at-fault vehicle accident or convicted of, or has plead guilty to, a moving traffic violation for which points may be assessed against their driver's license.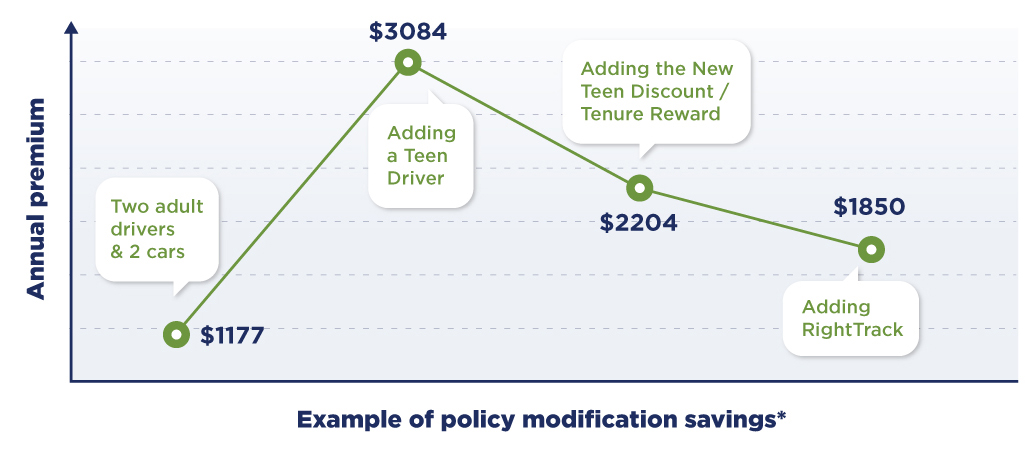 New Teen or Tenure Reward (state dependent)
For states with the New Teen Discount, customers that have been with Safeco for more than one year earn a substantial price break when adding a teen to their policy—up to 27% based on policy characteristics. States have the Tenure Reward discount in lieu of the New Teen discount, which offers similar potential savings with a required policy tenure of two or more years. Refer to your state product guide for details.
Newly independent discount
In select states, a policy level discount applies to drivers who are listed on an existing Safeco policy and are purchasing their own Safeco policy. This offers individuals such as recent college graduates who are moving off their parents' policy a way to save.
Safeco RightTrack®
Safeco's telematics program, is an excellent teen driver coaching tool that offers an opportunity for significant premium savings. Parents and their teens are provided feedback on driving practices via an online portal, allowing for improved driving behavior, and the ability to earn a discount on their Safeco Auto policy after a 90-day participation period. RightTrack evaluates a driver's mileage, acceleration, braking and nighttime driving, resulting in a final vehicle-level discount between 5% and 30% that will remain for as long as the vehicle (or replacement vehicle) is on the policy.
Road ahead
Help parents and teens prepare for the road ahead with tips about learning to drive, obtaining a license, driving in variable weather conditions, what to do in an accident and more. Included in the guide is a parent-teen contract that helps your customers set clear expectations, rules and responsibilities with their teens before they get behind the wheel.
Safeco® RightTrack® is a great way to promote safe driving and improve driving behavior for the whole family.
Ready to get started on saving money and protecting your family?